Top 5 Pre-Workout Supplements That Get You Totally Jacked 2017
A top-notch pre-workout supplement can have a major effect on the type of workout you end up experiencing. Going to the gym feeling not up to par is going to make your session less than it could be. Your strength will be less than desirable and generally, you just won't want to be there. A good pre-workout supplement can change all this, it can take you from feeling ho-hum to having you ready to bite through the barbell, chew up the metal and spit it out as bullets. They increase energy, focus, endurance and even strength. Not only that these supplements can help build muscle, lots of it. Here is the general protocol that we are currently recommending for pre-workout supplements.
What should be in a good pre-workout?
Every supplement company seems to have a pre-workout supplement, some have more than one, all claiming to do the same thing – get you unbelievably pumped and focused. Some deliver more than other though.
Try looking past the hyped-up claims and drill straight down to the ingredients – that's what's going to do the job for you.
We've looked at tons of studies and found that the most effective and safe ingredients available are:
Citrulline Malate –  Studies show it can increase muscle power, strength, and endurance.
Caffeine – Boost alertness and drive, increase muscle strength and endurance, during workouts. It also reduces perceived muscle pain
Betaine – Has been proven to increase strength
Taurine – Has been shown to boost endurance.
Arginine – Increases muscle pump to get you looking like an animal in the gym.
The Benefits of a Pre-Workout
Pre-workouts have several benefits to take your workout to the next level. They include:
Increased strength – Pre-workout supplements have proven ingredients to increase strength and power.
Increased focus – A good pre-workout will have you focused on crushing the weights.
Better muscle pump – Pre-workouts will give you muscle pumps that make you feel and look like a beast at the gym.
Increased energy – You will have increased energy when taking a pre-workout, increased energy to put into you workout so you get more out of it.
Top 5 Pre-Workout Supplements to Get You Jacked in 2017
Now that we have established what pre-workout supplements are the best ingredients to look for let's break down the top 5 pre-workout supplements available today that will add muscle and get you totally jacked.
1. Transparent Labs PreSeries Bulk
Next on our list is Pre-Series BULK. This is a newer pre-workout that has been kicking ass and taking names since it came out.  Transparent Labs has added a potent testosterone complex to this series that increases testosterone levels and makes it ultra effective at helping you build muscle and get jacked.
The PreSeries Bulk also has a mind-bending 4-gram beta-alanine dosage, this helps prevent fatigue so you can crush the weights for even longer without getting tired. This stuff had us lifting like absolute machines for a mind-blowing 2 hours straight! It also has nice doses of Citrulline Malate which is proven to increase strength along with Betaine, BCAA 2:1:1, Caffeine Anhydrous, and Choline. All of which are must-haves in a pre-workout supplement and this bad boy has them all.
PreSeries Bulk also contains no artificial sweeteners, dyes, fillers, or harmful additives. The taste was freaking awesome too, the blue raspberry is easily one of the best flavors we have had.
Something else we love is that Transparent Labs has also come out with PreSeries Lean for those that are trying to cut weight up and a PreSeries STIM FREE which we also liked for those that want a pre-workout without the stimulants. All three are awesome products and they have you covered if you are trying to bulk up, lose fat or don't want stimulants.
You can also use the Coupon Code "TL10" to save 10% on your entire order which doesn't suck in the least.
Highlights
Use code TL10 to save 10% on your order
Mighty 6 gram citrulline malate dosage
Testosterone Complex
No artificial sweeteners, colored dyes, unnecessary fillers, or harmful additives.
Optimal amounts of Choline, Betaine, BCAA 2:1:1, Caffeine Anhydrous and Taurine
Negatives
This product is the best in the field and is priced accordingly
Only available online
Visit –  transparentlabs.com/preseries-bulk-preworkout for more information on this supplement.
4 Gauge is a newer pre-workout that has taken the market by storm and for good reason, this thing is a beast!
Looking at the ingredients and you can see why 4 Gauge is so badass. They put in a nice 6000mg dose of Citrulline Malate which is shown to give good muscle pumps and help the body release HGH as well as build solid muscle. They also added 1000mg of creatine which as most people know is a solid strength and muscle builder. On top of those two solid muscle builders they have nice dose of caffeine anhydrous at 150mg, that is a good amount to give you a nice energy boost but not so much it gives you massive jitters since they use up to 300mg of caffeine which is twice as much as many energy drinks. 4 Gauge also uses a 200 mg dose of L-Theanine for increased focus and relaxing. Another key ingredient is Beetroot extract which gives incredible pumps and extensive muscle endurance. All of these ingredients together make this a beast of a pre-workout.
4 Gauge is also all natural with no artificial flavors or fillers. It also does not use a proprietary blend and everything is straightforward and transparent.
This is easily the best pre-workout we have tried to date. The endurance and focus that this product delivered were incredible and we also saw a nice increase in strength and muscle growth while on this product. If you are looking to drop bombs in the weight room like never before then the 4 Gauge is what you are looking for.
They offer free shipping worldwide as well as a money back guarantee if you are not satisfied so there is no reason not to give it a shot, you won't regret it. We feel it is the best pre-workout supplement on the market today and it is a sure-fire muscle builder.
Highlights
6000mg of Citrulline Malate
1oo0mg of creatine monohydrate
L-Theanine for focus and calmness
No proprietary blend
No artificial flavor
Free shipping worldwide
Negatives
Not available in stores only on the manufacturer website
Visit www.48gauge.com for more information on the product.
 3. Altius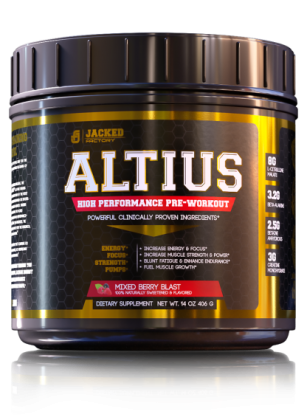 Coming in third on our list of pre-workout supplements available is Altius by Jacked Factory. This one has received some pretty nice reviews and is a solid product.
This bad boy contains a large dose of Citrulline Malate. This translates into enhanced nitric oxide production. Nitric oxide relaxes and widens blood vessels, and increases blood flow to muscle tissue. Be prepared to be a veiny beast.  In addition, Altuis contains optimum doses of the proven ingredients of Betaine Anhydrous, Creatine Monohydrate, Alpha-GPC, and Caffeine Anhydrous. And, you won't get filler ingredients with this one like you do with many others, only the good stuff.
Altuis also has no artificial food dyes or chemicals. It is 100% naturally sweetened and has a pretty good taste.
When we used Altuis it had us ready to kick butt, but it wasn't an over the top feeling where you feel like your head might implode like you get from some of the others.  We also noticed much better endurance with Altuis so we could lift harder for longer than ever before and had a good pump on Altius as well. Overall, we really liked Altuis. All the reviews are true, this beast of a pre-workout that belongs in the top 3 for sure.
Highlights
Large dose of Citrulline Malate
Proven ingredients of Betaine Anhydrous, Creatine Monohydrate, Alpha-GPC, and Caffeine Anhydrous
Good taste
No fillers or artificial dyes or chemicals
Any Negatives?
You can only buy it online.
Visit www.jackedfactory.com/altuis for more information about this supplement.
4. Bullnox Androrush
Bullnox is the first pre-workout to offer a testosterone boosting blend promoted to enhance aggression and the pump during exercise. Be careful not to hurt the weights while using this product, weights have feelings too. Also, if you are already an overly aggressive meathead you should probably be careful on this stuff not to do something stupid. Aside from that Bullnox will get you ready to fight a dozen angry pit bulls if the need arises, or you could just get an awesome workout instead.
Bullnox Androrush is available in 7 flavors, of which we found grape to be the best. Bullnox Androrush doesn't give the tingly feeling like some others do so if you don't like that then this is a good pick.
Negatives
Some people build up a tolerance to this product
Website betancourtnutrition.com 
5.  Cellucor C4 Extreme
C4 from Cellucor comes in fifth on our list. This one has a proven track record and will deliver as promised. One thing we really like about the C4 is the taste. They have 6 different flavors and all of them are delicious. We liked the watermelon flavor the best but it was a tough call. This one delivers a lot of the tingly feeling so if you like that this one may be for you, it also might be a bit much for some people. They have changed the formula a few times since it launched in 2010 and it has gotten even better each time. It is pretty well known for its tingle it provides as it kicks in and you are ready to go to war.
Negatives
If you don't like the tingly feeling this one might not be for you.
Website Cellucor.com 
Conclusion
So, there you have the top five pre-workout supplements available to get you jacked right now, our best choice being Preseries Bulk. It will have you ready to train like a beast and pack on some serious muscle too.
Each of these products is going to have different dosing instructions, so be sure to read up on how to take each one properly in order to see optimal results.
(Visited 836 times, 7 visits today)
Comments
comments